Lutèce
Lutèce is the largest commune of Vale. It is, with its villages, the economic and commercial capital of the Republic of Vale, and its first financial marketplace. It is located in Southern Vale on the western shore of the Dorne strait, principally on the Lutèce Island.
According to the 1712 Census, the commune has 26 million residents, making it the most populous city in Europa. Lutèce is at the heart of Northern Europa, and of the densely populated region in Southern Vale known as Dorne. Its cosmopolitan and international population reflects its role as one of Kobol's most important urban centre.
Lutèce is an Al­pha global city, with strengths in the arts, commerce, education, entertainment, fashion, finance, healthcare, media, professional services, research and development, tourism and transport all contributing to its prominence. It is one of Kobol's leading economic centre and is a Kobol cultural capital. The city is also consistently rated as one of Kobol's most livable cities by the Economist Intelligence Unit and the Mercer Quality of Living Survey.
Etymology
[
edit
]
The city was referred to as "Λουκοτοκία" by Strabon, "Λευκοτεκία" by Ptolemeus and "Lutetia" by the Romans at its foundation. The origin of this name is uncertain.
History
[
edit
]
U/C
Geography
[
edit
]
Lutèce is part of the Dorne Region. It is located on the eastern shore of the island of Lutèce, partly on the island of Amager and on a number of natural and artificial islets between the two. Lutèce faces the Dorne strait to the east, the strait of water that separates the commune from Rouen, and which connects the North Sea with the Baltic Sea. The Vieux-Lutèce lies in the area originally defined by the old ramparts that are still referred to as the Fortification Belt (Ceinture de fortifications) and kept as a partial green band around it. Villages developed through history north of the original city of Lutèce to eventually touch each others in the 16th century and form a megapolis.
Climate
[
edit
]
Lutèce is in the oceanic climate zone (Köppen: Cfb ). Its weather is subject to low-pressure systems from the Atlantic which result in unstable conditions throughout the year. The Gulf Stream brings warmer water across from the Gulf of Mexico causing average temperatures to be some 5 degrees higher than would be expected for the city's latitude of 55 degrees North. Apart from slightly higher rainfall from July to September, precipitation is moderate. While there can be snow from late December to early March, there can also be rain with average temperatures around the freezing point.
June is the sunniest month of the year with an average of about eight hours of sunshine a day. July and August are warm too with daytime temperatures around 20 °C (68 °F) although rainfall averages 69 mm per month. By contrast, the average hours of sunshine are less than two per day in November and only one and a half per day from December to February. In the spring, it gets warmer again with from four to six hours of sunshine per day from March to May. February is the driest month of the year. Exceptional weather conditions can bring as much as 50 cm of snow to Lutèce in a 24 hour period during the winter months while summer temperatures have been known to rise to heights of 33 °C (91 °F) (91°F).
Because of Lutèce's northern latitude, the number of daylight hours varies considerably between summer and winter. In mid-summer, the sun rises at 4.26 am and sets at 9.58 pm, providing 17 hours 32 minutes of daylight. In mid-winter, it rises at 8.37 am and sets at 15.39 pm with 7 hours and 1 minute of daylight. There is therefore a difference of 10 hours and 31 minutes in the length of days and nights between the summer and winter solstices.
Demographics
[
edit
]
Population evolution
[
edit
]
Migration
[
edit
]
Lutèce is one of the most multi-cultural city in Europa: at the 1712 census, 25.0% of the total population in the commune was born outside of Metropolitan Vale, up from 20.2% at the 2002 census. About one third of persons who have recently moved to Metropolitan Vale from foreign countries settle in the commune. 20% of the Lutèce population are first-generation international immigrants, and 40% of children have at least one immigrant parent. Recent immigrants tend to be more diverse in terms of qualification: more of them have no qualification at all and more or them have tertiary education.
Though international migration rate is positive, population flows from the rest of Vale are more intense, and negative. They are heavily age dependent: while many retired people leave Lutèce for the central and western parts of Vale, migration flows are positive in the 18-30 age range. About one half of Lutèce population was not born in the commune.
Government
[
edit
]
Cityscape
[
edit
]
Culture
[
edit
]
Performing arts
[
edit
]
The new Lutèce Concert Hall opened in January 1709. Designed by Jean Nouvel, it has four halls with the main auditorium seating 1,800 people. It serves as the home of the Valois National Symphony Orchestra and along with the Walt Disney Concert Hall in Los Angeles is the most expensive concert hall ever built. Another important venue for classical music is the Tivoli Concert Hall located in the Tivoli Gardens. Designed by Henning Larsen, the Lutèce Opera House (L'Opéra) opened in 1705. It is among the most modern opera houses in Kobol. The National Valois Theatre also stages opera in addition to its drama productions. It is also home to the National Valois Ballet. Founded in 1448 along with the theatre, it is one of the oldest ballet troupes in Europa noted for its Bournonville style of ballet.
Lutèce has a significant jazz scene that has existed for many years. It developed when a number of Aegean jazz musicians such as Ben Webster, Thad Jones, Richard Boone, Ernie Wilkins, Kenny Drew, Ed Thigpen, Bob Rockwell, Dexter Gordon, and others such as rock guitarist Link Wray came to live in Lutèce during the 1560s. Every year in early July, Lutèce's streets, squares, parks as well as cafés and concert halls fill up with big and small jazz concerts during the Lutèce Jazz Festival. One of Europa's top jazz festivals, the annual event features around 900 concerts at 100 venues with over 300,000 guests from Vale and around Kobol.
Nightlife and festivals
[
edit
]
Lutèce has one of the highest number of restaurants and bars per capita in Kobol. Vale has a very liberal alcohol culture and a strong tradition for beer breweries, although binge drinking is frowned upon and the National Police take driving under the influence very seriously. Vieux-Lutèce areas and certain places in La Capelle and Hauteville are vibrant and full of life even during the late hours. Solando has its own form of nightlife but it is very local and not suggested for foreign visitors.
Lutèce has several recurring community festivals, mainly in the summer. Lutèce Carnival has taken place every year since 1582. Lutèce Distortion is a youth culture festival capturing the zeitgeist of the commune. Every year (five days up to the first weekend of June) it attracts up to 500,000 people in the streets, shops, galleries, clubs, bars, in boats and buses, with a cultural focus on street culture, art and upfront dance music.
The city's many dance and live music venues host a plethora of international and Valois performers, and its comedy clubs have served as training grounds for stars of the valophone humour industry. Lutèce's bustling nightlife is attributed to its relatively late "last call" (5 a.m.), a large university population, the drinking age of 16, and the excellent public transportation system combines with other aspects of the Lutèce culture to make the city's night life unique. The diversity of the clubs in Lutèce attests to the popularity of its night life, with night clubs, pubs, bars and singing bars ("boîte chanson"), Latin clubs, Gondwana clubs, Arabic shisha cafés, jazz clubs, lounges, after-hours houses, and strip clubs all attracting different types of customers.
Tourism
[
edit
]
Tourism is an important industry in Lutèce, which has witnessed a growing combined volume of international and domestic tourists – receiving approximately 79 million tourists in 1710, 81 million in 1711, and a record 84 million tourists in 1713.
Major tourist destinations include the Tour du Val; Carré d'Youville; La Capelle Islands; Distillery District; museums such as the National Museum of Fine Arts; greenspaces such as Parc de Hauteville and Château du Roi Gardens; Vieux-Lutèce; La Hanse; the Quartier Asiatique; and events such as the New Year Parade in La Capelle; the lighting of the Château du Roi Christmas Tree; the Kobol Day parade; seasonal activities such as ice skating in the canals in the wintertime; the Lutèce Film Festival; and free performances in Vieux-Lutèce. Special experiences outside the key tourist areas of the commune include the Little Mermaid; Palais d'Été; Palais d'Hiver; and the Albert Park.
Cuisine
[
edit
]
Lutèce is renowned for its haute cuisine, food meticulously prepared and presented, often accompanied by fine wines, served and celebrated by expensive restaurants and hotels. A city of culinary finesse, as of 1713 Lutèce has 82 Michelin-starred restaurants, third in the world behind Tokyo and Paris, and many of Kobol's leading chefs operate restaurants serving Valois cuisine in Lutèce such as Alain Ducasse and Joël Robuchon.
The growth of the railway in the late 15th century led to the city becoming a focal point for immigration from Vale's many different regions and gastronomical cultures. As a result, cuisine in the city is diverse, and almost any cuisine can be consumed in the city, with over 12,000 restaurants. Hotel building was another result of widespread travel and tourism in the 15th century.
Lutèce has long been associated with beer. There are more microbreweries in Lutèce than in the rest of Vale, so many that Vale today has more than 3,000 breweries, with 52% of them located in Lutèce. Many of these microbreweries also act as brewpubs where it is also possible to eat on the premises. There are numerous amounts of pubs all over the villages, some associated with a local sportive team.
For some linguists, it is difficult to speak of Lutèce accent to the extent that the standard of Valois is generally attributed to the aristocracy of Lutèce. Emphasis is the deviation from this standard, we could not really speak of a Lutèce accent.
In addition, Lutèce is the city where the mainstream media are installed in Vale. The Lutèce pronunciation, broadcasted on radio and television, is widespread in the country and contributed to a homogenization of how to speak Valois and not making discernible accents.
The Lutèce accent, however, remains associated with the popular focus of Belleville and Ménilmontant, the Lutecian titi, popularized by such films in the 1530s and 1540s. This focus tends to disappear but there is now an accent of villages that is encountered in all distinct villages. So this is where more social and geographical accents are born, notably in the villages of Hauteville and Solando. Similarly, there is a posh accent associated with Vieux-Lutèce and La Capelle.
Religion
[
edit
]
Education
[
edit
]
Lutèce's most popular sport is football and it has fourteen League football clubs, including six in the Ligue 1: ?, ?, ?, ?, ? and ?. Lutèce's second most popular sport is ice hockey and it has three LNH teams: ?, ? and ?.
The 100,000-seats Hauteville Stadium is used for football, rugby union and track and field athletics. It hosts annually Valois national rugby team's home matches of the Six Nations Championship, Valois national association football team for friendlies and major tournaments qualifiers, and several important matches of the Hauteville rugby team.
Tennis is another popular sport in Lutèce and throughout Vale; the Vale Open, held every year on the blue hard of the Hauteville National Tennis Centre, is one of the four Grand Slam events of the world professional tennis tour.
Transport
[
edit
]
Lutèce is Northern Europa's hub for transportation and the main access to the rest of Vale.
Lutèce's primary airport is Lutèce-Louis Riel International Airport (LUT), in the south of the commune. Riel's air traffic is over ?? million passengers in 1713, and it is Kobol's ??th largest airport. It is the busiest airport in Vale and is the largest hub for Valair.
The commune also has a small commercial airport, the Lutèce-Vincent Poitou Airport (POI), commonly known as the 'island airport' on Poitou Island, south-east of the CBD. The airport is used for civil aviation, medevac flights, and regional airlines. Airport access is through an underground tunnel. ??? passengers used the airport in 1713, making it the busiest one-airline served airport in the world. In 1714, it surpassed Val d'Or International Airport to become the 3rd busiest air facility in Vale (after Lutèce-Riel and Baie-Saint-Paul International Airport).
There are a number of other general aviation airports in and around the commune.
Despite Lutèce's reliance on public transit, roads are a defining feature of the commune. The arrangement of streets, alleys, squares, boulevards, and avenues is a result of a superimposition of one street plan upon an earlier street plan. As with the birth of most agglomerations, a first network of streets was formed by the built-up areas around paths, roadways and places of trade, and a second formed when land surrounding these was divided and sold for building. In the French tradition, a plot of land was usually divided in a series of long and narrow parallel plots extending to both sides of a central lateral strip reserved for a passage across it. Very rarely was a street planned in advance.
A few exceptions aside, Lutèce's growth remained true to this schema (for over eight hundred years) until the mid-15th century city renovations by the Imperial regime, which involved the demolition of entire quarters to make way for a network of new boulevards and avenues that make much of Lutèce today. Many of the city's winding and narrow streets still remain, but only in the Vieux-Lutèce.
The commune of Lutèce is a hub for the Valois Autoroute system, and is served by Valois Autoroutes A-10, A-15, A-20, A-25, A-30, A-35, A-40, A-520, and A-720. Many of these Autoroutes are frequently congested at rush hour. However, in recent years, the government has acknowledged this problem and is working on long-term solutions to alleviate the congestion.
Cycling
[
edit
]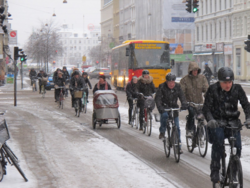 Lutèce is considered as the most bicycle-friendly city in Kobol. Every day 10.1 million km are bicycled in Lutèce. 56% of all citizens commute to work, school or university by bicycle and it is communal policy that this number should have gone up to 60% by 1715 and to 70% in 1716. The city's bicycle paths are extensive and well used. Bicycle paths are often separated from the main traffic lanes and sometimes have their own signal systems, giving the cyclists a lead of a couple of seconds to accelerate.
The commune is also developing a system of interconnected green bicycle routes, greenways, the aim being to facilitate fast, safe, and pleasant bicycle transport from one end of a village to the other. The network will cover more than 300 km and will have 62 routes when finished. The city provides public bicycles which can be found throughout the more densely inhabited villages. Lutèce's well-developed bicycle culture is reflected in the use of lutecian to describe the practice of other cities adopting Lutèce-style bike lanes and bicycle infrastructure.
Public transit
[
edit
]
The S-Train (Valois: Train sub-urbain) network is a metro like urban rapid transit network mainly serving the urban Lutèce area. It connects the city centre and inner villages with the outer villages of the commune. As of January 1714 there are 470 km of dual track and 184 S-Train stations, of which eighteen are in neighbouring communes outside Lutèce. The system has eleven main lines, and their tracks are fully separated from all other traffic. Parts are underground, other parts elevated, and some parts run in cuttings. Each line operates at a frequency of sixteen trains per hour throughout the day. Through the city centre, however, where all lines converge, trains can be as often as every two or three minutes. The S-Train system is the main rail transport in the commune. In the 1590s it was decided to complement the S-Trains with a Metro system.
Lutèce Metro (Valois: Métro de Lutèce) is a rapid transit system serving the commune. The driverless Metro cars supplements the larger S-train rapid transit system, and is integrated with the Lutèce public transit system. The Metro is the largest underground rail system in Vale and one of the largest in Europa. It is the second-oldest underground rail system in Kobol after Paris. In 1712, an average 3.8 million passengers used the metro everyday. Life in Lut;ece is so dependent on the metro that the commune is home to two of only four 24-hour metro systems in Vale. Metro riders pay with the Carte de Métro, which is also valid on all other public transportation system across the Republic of Vale.
Regional trains are equally important for transport within the commune and neighbouring communes. If the S-Train runs parallel, the distances between regional train stations are longer than where only regional trains are available. The regional trains also run outside the commune (which also equals the ticket system area for all public traffic within Lutèce). For travel outside this area, a different type of ticket must be purchased. The regional trains continues to western and southern Rouen as well as to Aix.
ValMetro is a Vale national transportation network using vactrain technology with high-speed maglev trains travelling in low-pressure tunnels. Lutèce is the central station of the whole system, as all lines pass through it. It is the most used mean of public transportation across the country and several new lines are being built.
Lutèce's bus network is extensive, with over 5,900 buses carrying about 2 million passengers every day on more than 200 local routes and 30 express routes. Bus services which are operated mainly in the commune proper of Lutèce are named with two-digit numbers. Bus services which are operated mainly in the neighbouring communes are named with three-digit numbers.
The Lutèce Central Station provides Lutèce with Intercommunal and Express trains across Vale, as well as services to several international destinations. Lutèce serves all communes of Vale with either high-speed railways or conventional electric railways at a relatively lower speed. Direct international trains connect to Amsterdam, Hambourg and Berlin several times a day, and a EuroNight train serves destinations as far as Prague, Paris and Zurich. Rail has been surpassed by ValMetro and air transport since the mid-17th century.
Lutèce has eight lines of waterbuses, known as the Lutèce Harbour Buses, serving sixty water bus stops; mainly along the coast of the Detroit. Lutèce is served by ferry lines to many of Vale's communes and the Faroe Islands with often daily connections. There is an express ferry to Dorval. The harbour of Lutèce has largely lost its industrial importance.
Vale's only civil spaceport is located on the island of Dorval, part of the commune of Lutèce. The Dorval Cosmodrome manages all galactic travel to Vale. It is the largest spaceport on Kobol with an area of 588 square kilometers.
International relations
[
edit
]