Commonwealth of Arizona
This article is about the Commonwealth of Arizona. For information on the State of the same name, see State of Arizona, and for other uses see Arizona (disambiguation).
Motto: "Manus haec inimica tyrannis ense petit placidam sub libertate quietem" (Latin)
This Hand, hostile to tyrants, seeks with the Sword a quiet Peace under Liberty

Anthem: "Arizona March Song"


abc

abc

Capital
and largest city
Phoenix
Official language
English
Recognized languages
Demonym
Arizonan
Government
Unitary state and
presidential monarchy
 - 
King
AABB
 - 
President of
the Council
TBD3
 - 
Speaker of
the Assembly
TBD4
 - 
Chief Justice
TBD5
Legislature
Legislature
 - 
Upper house
Legislative Council
 - 
Lower house
Legislative Assembly
Independence from the Kingdom of California
 - 
Declared
TBD5 
 - 
Recognized
TBD6 
 - 
Current constitution
TBD7 
Area
 - 
Total
295,234 

km

²
113,990 

mi

²
 - 
Water (%)
0.32
Elevation
 - 
Highest point
San Francisco Mountain
3,851.8 

m


(12,637 

ft

)
 - 
Mean
1,936.9 

m


(6,355 

ft

)
 - 
Lowest point
Colorado River
22 

m


(72 

ft

)
Population
 - 
1710 census
315,000
 - 
Density
1.07 / 

km

²
(2.77 / 

mi

²)
GDP (PPP)
1712 estimate
 - 
Total
US$  261.304 × 10⁹
 - 
Per capita
US$  39,880
GDP (nominal)
1712 estimate
 - 
Total
US$  261.304 × 10⁹
 - 
Per capita
US$  39,880
Currency
United States credit (US$ ) (USC)
Time zone
Arizona Time (UTC−7)
 - 
Summer (DST)
N/A (UTC−7)
Date format

mmddyyyy
ddmmyyyy
yyyymmdd
MMMM dd, yyyy
dd MMMM yyyy

Drives on the
right
Interlink TLD
a.
TBD
Arizona (/ærɪˈzoʊnə/) is the sovereign political community of Arizona vampires.
A member of the Zeus clan of vampires, the Commonwealth of Arizona was founded in 1717 after declaring independence from the Kingdom of California.
Etymology
[
edit
]
The name of the Commonwealth appears to originate from an earlier Castilian name, Arizonac, derived from the O'odham name alĭ ṣonak, meaning "small spring", which initially applied only to an area near the Mexican silver mining camp of Planchas de Plata, Sonora. To the European settlers, their pronunciation sounded like "Arissona". This is supported by the fact that the area is still known as alĭ ṣonak in the O'odham language. Another possible origin is the Basque phrase haritz ona ("the good oak").
There is a misconception that the Commonwealth's name originated from the Castilian term for "Arid Zone". The Castilian phrase for "arid zone" would be "zona árida", not "árida zona".
History
[
edit
]
XXXX
Geography
[
edit
]
See also lists of counties, islands, rivers, lakes, national parks, and national forests.
Landscapes and climates of Arizona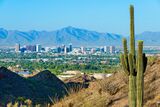 Phoenix
, the capital of the State of Arizona  
Arizona is located in the Southwestern region of the Zeus Clan of vampiric Realms, and is one of the Four Corners States. Arizona is the Nth largest State by area, after New Mexico. Of the Commonwealth's 113,998 mi² (295,253 km2) of territory, approximately 15% is privately owned. The remaining area is held in trust by the Arizona State Government in the name of the various Peoples of Arizona, under the custody of the Arizona Department of Land and Natural Resources (national parks, and public lands held in trust by the State); the Arizona Department of Forestry and Fire Management (national forests and other wilderness areas); the Arizona Department of Emergency and Military Affairs (military bases and other installations); the Arizona Commission on First Nation Affairs (Arizona First Nations Trust Lands); or the Arizona Department of Water Resources (rivers, streams, and lakes not under private ownership).
Arizona is well known for its desert Basin and Range region in the western and southern portions of the Commonwealth, which is rich in a landscape of xerophyte (succulent) plants such as the cactus, and has a climate with exceptionally hot summers and mild winters. The Commonwealth is less-well known for its pine-covered north-central portion of the Commonwealth's High Country and parts of the Colorado Plateau (see Arizona Mountains forests).
Like other States of the Southwest region of Zeus, Arizona has an abundance of mountains and plateaus in addition to its desert climate. Despite the Commonwealth's aridity, 27% of Arizona is forest, a percentage comparable to the modern-day German Federal Republic. The largest stand of Ponderosa pine trees in the world is contained in Arizona.
The Mogollon Rim, a 1,998-foot (609 m) escarpment, cuts across the central section of the Commonwealth and marks the southwestern edge of the Colorado Plateau, where the Commonwealth experienced its second-worst forest fire ever in 1702.
Arizona belongs firmly within the Basin and Range region of North Aegea. The region was shaped by prehistoric volcanism, followed by the cooling-off and related subsidence.
The Grand Canyon is a colorful, steep-sided gorge, carved by the Colorado River in northern Arizona. The canyon is one of the seven natural wonders of the world and is largely contained in Grand Canyon National Park—the first Arizona National Park. The canyon was created by the Colorado River cutting a channel over millions of years. It is about 277 miles (446 km) long, ranges in width from 4 to 18 miles (6 to 29 km), and attains a depth of more than 1 mile (2 km). Nearly two billion years of Kobol's history have been exposed as the Colorado River and its tributaries cut through layer after layer of sediment as the Colorado Plateau uplifted.
Arizona is home to one of the most well-preserved meteorite impact sites in the world. Created around 50,000 years ago, the Barringer Meteorite Crater (better known simply as "Meteor Crater") is a large crater in the middle of the high plains of the Colorado Plateau, about 25 miles (40 km) west of Winslow. A rim of smashed and jumbled boulders, some of them the size of small houses, rises 150 feet (46 m) above the level of the surrounding plain. The crater itself is nearly 1 mile (1.6 km) wide, and 570 feet (174 m) deep.
Arizona is one of two member States of the Union Defense Initiative that do not observe Daylight Saving Time (the other being Hawaiʻi).
Climate
[
edit
]
XXXX
Geology
[
edit
]
XXXX
Earthquakes
[
edit
]
Generally, Arizona is at low risk of earthquakes, except for the southwestern portion which is at moderate risk due to its proximity to Southern California. On the other hand, Northern Arizona is at moderate risk due to numerous faults in the area. The regions that are at lowest risk in the Commonwealth are near and west of Phoenix.
The earliest Arizona earthquakes were recorded at Fort Yuma, on the California-side of the Colorado River. They were centered near Imperial Valley or Mexico, back in the 1500s. In 1587, Douglas felt the shock of a magnitude 7.2 earthquake with an epicenter 40 miles to the south in the Mexican State of Sonora. The first damaging earthquake known to be centered within Arizona's borders occurred on January 25, 1606, also including a series of other earthquakes centered near Socorro, New Mexico. The shock was violent in Flagstaff.
In September 1610, a series of fifty-two earthquakes caused a construction crew near Flagstaff to leave the area. In early January 1635, the Commonwealth experienced a series of earthquakes, in the Yuma area and near the Grand Canyon. Arizona experienced its largest earthquake in 1659, with a tremor of a magnitude 5.6 on the Richter scale. It was centered near Fredonia, in the northwestern part of the Commonwealth near the border with Utah. The tremor was felt across the border in the neighboring Realms of Nevada and Utah.
Arizona Land Survey
[
edit
]
XXXX
Politics and government
[
edit
]
The Commonwealth of Arizona is organized as a popular monarchy, in which the King derives his just Powers and Legitimacy from the Consent of his People. In the Commonwealth of Arizona, the King is answerable to his people, and he reigns so long as he maintains their confidence. However, unlike popular monarchies elsewhere, the King is styled not as the "King of the Arizonans", but as the "King of Arizona".
XXXX
XXXX
XXXX
XXXX
State and Foreign Affairs
[
edit
]
XXXX
Sheriffs
[
edit
]
Sheriff's Offices: Apache County

 · 

Cochise County

 · 

Coconino County

 · 

Gila County

 · 

Graham County

 · 

Greenlee County

 · 

La Paz County

 · 

Maricopa County

 · 

Mohave County

 · 

Navajo County

 · 

Pima County

 · 

Pinal County

 · 

Santa Cruz County

 · 

Yavapai County

 · 

Yuma County
XXXX
Demographics
[
edit
]
XXXX
Population
[
edit
]
As of the most recent Commonwealth Census (1720), there were 352,237 vampires domiciled in Arizona. Around three-fifths (roughly 215,000) live within Maricopa County, followed by approximately 54,000 in Pima County; with the rest living in the other thirteen Counties of the Commonwealth.
County
Seat
Population
Area
Map
Legislators
Apache County
St. Johns
3,782
11,218 square miles (29,054.5 km2)
1 Councillor
3 Assemblymen
Cochise County
Bisbee
6,910
6,219 square miles (16,107.1 km2)
1 Councillor
3 Assemblymen
Coconino County
Flagstaff
7,265
18,661 square miles (48,331.8 km2)
1 Councillor
3 Assemblymen
Gila County
Globe
2,810
4,796 square miles (12,421.6 km2)
1 Councillor
3 Assemblymen
Graham County
Safford
1,879
4,641 square miles (12,020.1 km2)
1 Councillor
3 Assemblymen
Greenlee County
Clifton
419
1,848 square miles (4,786.3 km2)
1 Councillor
2 Assemblymen
La Paz County
Parker
1,090
4,513 square miles (11,688.6 km2)
1 Councillor
2 Assemblymen
Maricopa County
Phoenix
215,646
9,224 square miles (23,890.1 km2)
2 Councillors
5 Assemblymen
Mohave County
Kingman
10,536
13,470 square miles (34,887.1 km2)
2 Councillor
4 Assemblymen
Navajo County
Holbrook
6,014
9,959 square miles (25,793.7 km2)
1 Councillor
3 Assemblymen
Pima County
Tucson
54,219
9,189 square miles (23,799.4 km2)
2 Councillors
4 Assemblymen
Pinal County
Florence
17,562
5,374 square miles (13,918.6 km2)
1 Councillor
4 Assemblymen
Santa Cruz County
Nogales
2,316
1,238 square miles (3,206.4 km2)
1 Councillor
3 Assemblymen
Yavapai County
Prescott
11,492
8,128 square miles (21,051.4 km2)
2 Councillors
4 Assemblymen
Yuma County
Yuma
10,298
5,519 square miles (14,294.1 km2)
1 Councillor
3 Assemblymen
Commonwealth of Arizona
Phoenix
352,237
113,990 square miles (295,232.7 km2)
20 Councillors
50 Assemblymen
Society
[
edit
]
XXXX
Etiquette
[
edit
]
Vampire society in Arizona is formal and egalitarian. Unlike monarchies among humans, vampiric monarchies do not confer any titles of nobility. Rather, vampiric monarchies connotate a place of honor and esteem vested in the monarch by his or her countrymen: The titles of King and Queen are egalitarian, much like "President", "Governor", and "Prime Minister" among humans.
XXXX
In Arizona, as in most other vampire kingdoms, all vampires other than the monarch are styled Sir or Madam, while the monarch is styled using a variant of Sir/Madam, namely Sire in the case of the King, and Lady in the case of the Queen. These titles serve no purpose other than to denote positions of trust and honor.
See also
[
edit
]